My Days at the
United States Naval Academy
July 1975 to June 1979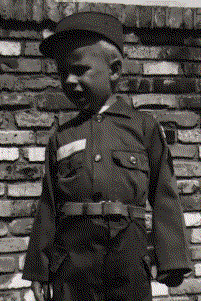 Why did I go to the Naval Academy? Many people today are surprised that someone that looks like me actually graduated from there. Was it the result of some repressed childhood memory? Like dressing up as a child as if I were in the military? Playing on the submarine, conveniently docked in the back yard of our house in Anoka, Minnesota, with my sister Dawn (the salty looking sailor with the cap in the photo) when we were kids? Believe it or not, I decided to go after attending the first USNA summer program for high school juniors in 1974. As part of the visit, I was treated to a demonstration of the power of Boolean algebra to model electrical switching systems (a system with several switches and lights). This was really amazing, the use of simple mathematics to predict how a design would work when various switches were closed or open. I was shocked and in heaven when I understood what this really meant: Someone would actually pay me to solve fun math problems, and there were actually jobs somewhere working mathematics. Little did I know that this someone would be my "Uncle" Admiral Rickover.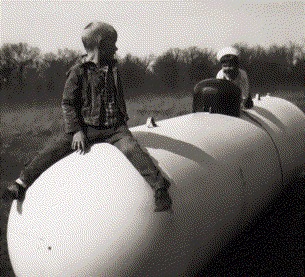 I was selected as an alternate for the Congressman from my congressional district in California, and got an appointment two weeks prior to the start of plebe year. I got a phone call from the Naval Academy, and after they identified themselves, I said, "I'll go!" before they even told me why they were calling. The Naval Academy person calling me just started laughing. I ended up taking the place of somebody that, unfortunately, turned out to be not medically qualified for military service. Was I the last person selected for the class of 1979? Maybe - I never heard anyone say they had been selected after me. But that is the way it is with the service academy class selections: There are many qualified individuals for each spot, and it is a mainly matter of luck as to who gets selected to go (unless your family is connected politically or has a few admirals or generals in it). So, if you do get selected, you should make the most of your good luck and work hard at your studies, because a lot of other people did not get the chance that you did.
Plebe Year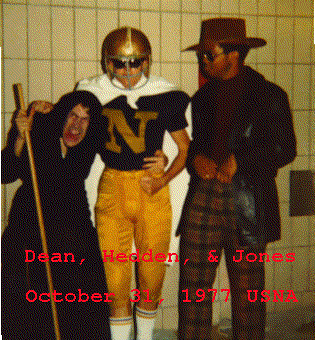 What was my first year, the dreaded plebe year, like? Let's just say that I would like to not remember this year. Actually, I don't really remember it very well today, unless I see a movie about the Naval Academy or see something in the paper about it, and then I get a flashback. Also, my uncle Paul wrote me a letter with the good advise that people don't like to hear about how hard it was. In my first semester, I got some of the lowest academic grades of my life. Later, I discovered that my study habits, while good enough for high school and probably satisfactory for most colleges, were inadequate for my 18 to 22 credit-hour course loads at the Naval Academy. After I learned how to really study for intensive, difficult courses, my grades improved dramatically, from a C average to an A average by my third year. (I also learned the two rules that have served me well: Never give up, and always do my best.) A good thing that happened was that I started taking a series of experimental Calculus with Computers classes, which taught calculus by programming. I took three semesters of this, and then Differential Equations with Computers.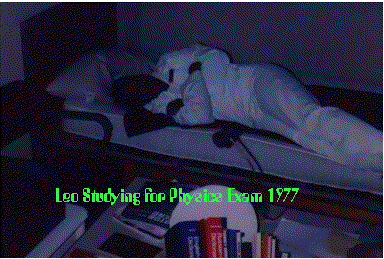 Also during the first year (and during the second year), there were boxing classes, where I got a bloody nose up every single class up until the last class before the "boxing exam" (that is how I knew I was improving, when I did not get a bloody nose during the last practice sparring match!). I was my company representative on the class committee that designed the class crest that appears on the Class of 1979 Naval Academy class ring,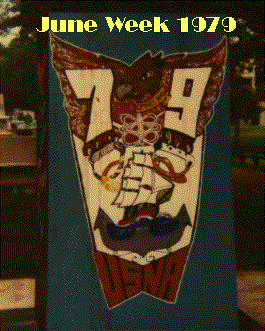 the infamous one with the "omnes viri" caption that no one outside of the class understands (another story for a later web page). Near the end of my plebe year, with only a month or so to go, I almost gave up, but a firstclass in the company (who had kindly taken it upon himself to straighten me out during the second semester with some extra, special, personal instruction, which in any other college would be considered to be either hazing or some odd fraternity initiation ritual) took me aside and talked to me. Some how, I continued on and finished that first, plebe year.
Youngster Year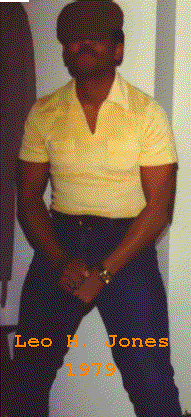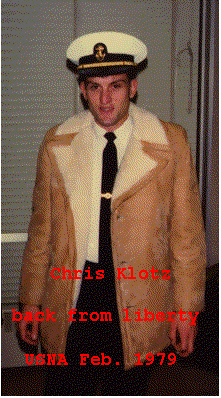 That summer my youngster cruise was on the USS Spartenburg County (LST-1192), which visited Roosevelt Roads, Puerto Rico, where I became acquainted with Singapore Slings and officer clubs. (LST-1192 is no longer is service with the U.S. Navy, having been sold to Malaysia on 12/15/94.)
Beginning with my second or "youngster" year, I spent a lot of time studying and even some time during the weekends dating. Actually, it was mostly studying , morning, noon, and night - even when I went away for the weekend with a date, I always brought a few books with and I actually spent time studying and reading them. As a result, much of what I remember is a fog of studying and things my friends from the 24th Company did. Like dress up for Halloween each year: under Academy tradition (at least at that time), the upperclass dressed up and got candy from the plebes in some strange parody of trick-or-treating. The Halloween photo on this page includes me (monster) and my friends Leo Jones (pimp or just a good dresser?) and Jerry Hedden (super hero) ready to get some snacks. In my getup, I was actually quite scary as indicated by the shock and screams when people saw me -- I used 30 or so "Redcoats" (a dental hygiene product) to make my mouth and teeth look blood red. Other diversions included sports, concerts, pep rallies and posters. My roommates for my last three years, Leo Jones and Chris Klotz, enjoyed getting away from the Academy most of all, for some reason. Leo played in the Drum & Bugle Corps, and Chris enjoyed long-distance running. Shown above from 1978 is a Class of '81 "whip the woops" poster, showing how the Army mule likes to get whipped, for an upcoming Army-Navy game. I also listened to a lot of Yes music while at the Academy, as my roommates could testify. But mainly I spent my time studying and reading and then studying some more, some of it to Yes music and some of it during weekend dates (boy, I must have been fun to be around!).
Second Class Year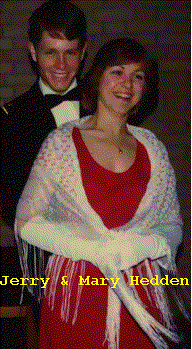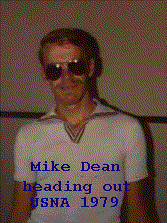 I majored in Operations Analysis (which, also known as operations research, is, I understand, no longer offered as a separate major at USNA but is now only a study area offered under the Academy's applied mathematics department), which allowed me to see ways in which mathematics and simulation can be used to solve real life problems. This major has helped me in every job that I have had, especially in showing how to analyze and visualize any difficult and complex problem,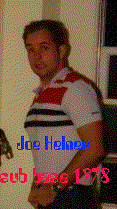 especially those with alternative solutions. Plus, majoring in operations analysis gave me the chance to learn exciting, now-extinct computer programming languages like PDP-8 and seldom-used and now-forgotten simulation programming languages like GPSS.
There were also plenty of dances and things like that to keep everybody somewhat happy. For example, here is my Plebe year roommate Jerry Hedden (who was later the first semester 24th Company Commander) with his future wife Mary at one of the many formal Naval Academy dances that we all attended.
First Class Year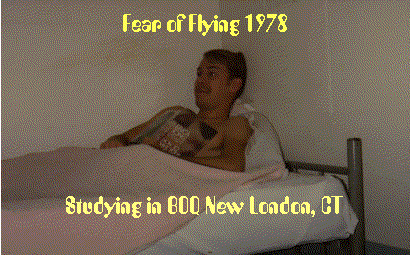 >
My first class cruise was on a brand new nuclear-powered Los Angelas-class attack submarine, the USS Omaha. Interestingly, I found out why midshipmen have a bad reputation in the 'real navy': One of the Academy mids on the Omaha, before leaving on a three week cruise, parked and left his car in the New London submarine base commander's reserved parking spot. A petty officer on the base told me, "Boy, the Commander sure was pissed," but that mid was also upset - because during the three weeks that the sub was away, somebody had moved his car and towed it away. Joe Helner, who was one of my plebe year roommates, was also with me on that first class cruise on the USS Omaha. That submarine cruise was interesting in that I was able to apply some of my operations analysis skills during a submarine tracking training exercise. During the first semester of my first class year, I was the 24th Company conduct officer, which mainly involved keeping the paperwork on everyone's demerits and investigating why the company's underclassmen could never stay out of trouble. During this semester I signed up for my Admiral Rickover interview, and somehow was selected for the naval nuclear propulsion program.

Admiral Rickover convinced me during over-ten hours of interviews and waiting around that he really did want me in the naval nuclear power program, even though I studied operations research as a major at the Naval Academy, because I had taken engineering courses and had gotten good grades, but that is another story (which I plan to tell later). The second semester I was just trying to get done and out in the fleet.
Graduation Week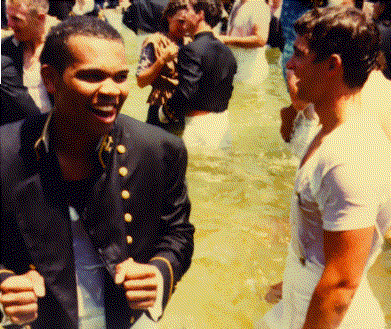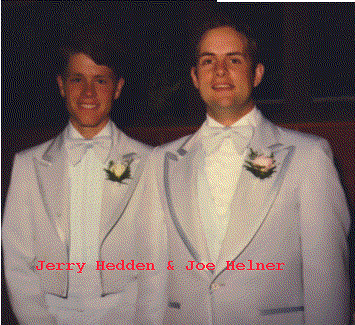 Finally, and not with a minute to spare, the Class of 1979 graduation week was upon us. It was all very busy, with events, dances, visiting time with my parents and relatives. Following tradition, after marching in his last USNA parade, my roommate for the last three years at the Naval Academy (and very good friend) Leo Jones jumped into the reflection pool. (Don't go looking for the pool today as I think the reflection pool behind Mitchner Hall was recently filled in and the location used for a new building .) That is Leo in the picture wearing the jacket, with Rick Mars (our second semester 24th Company commander during 1979) looking on. For my graduation, my parents, my sister Dawn, and my grandmother Alice Dean from Minnesota came to see the festivities.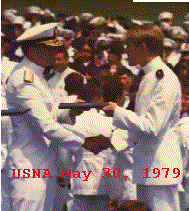 And then on May 30, 1979, all of that hard work and studying paid off, and I finally graduated (with merit) from the Naval Academy. And then I started all over again as an ensign on my way to Naval Nuclear Power School in Orlando after temporary duty at the Pentagon in the Navy's CNO office of studies and analysis. (That was the only time after the Naval Academy that I ever had a straight operations research related job.) Soon I was on the nuclear-powered cruiser USS California (CGN-36) and the destroyer tender USS Puget Sound (AD-38), headed for world crossing-cruises starting in the Indian Ocean and Med.
But that, as they say, is another story.
Return to my home page
Class of 1979 Homepage

© Michael A. Dean 1998-2007. My thanks to the people at the Tripod Network of Lykos for providing this space. Initially posted January 5, 1998; last revised on February 15, 2007. Send any comments to deanlaw@hotmail.com.


Baltimore, Maryland