, all of which I enjoyed very much. I also love an early version, a studio run-through, of that song with slightly different lyrics titled Siberia on the Rhino re-release of the CTTE album (highly recommended for all Yes fans).

I can still remember the first time I heard Siberian Khatru (Wikipedia entry). I was astonished by the mixture of classical themes in a purely rock song! I then listened to it again, and then again. From that point on, Yes became my favorite band. I still think Siberian Khatru is one of the best songs ever recorded.

Another great song is the "Gates of Delirium," which is based loosely upon "War and Peace," from the Relayer album. I also enjoyed the band's 1999 release, The Ladder, with its song "Face to Face" as my favorite.

I drove from Baltimore down to Florida for the Yes concert on October 18, 1999, at the Tampa Performing Arts Center, as part of their Ladder tour. On the day prior to the concert, a freind that I had met through the a Yes online group, sponsored a "Yes barbeque." I met several of my on-line friends from the group for the first time and had an excellent time talking about Yes for several hours.
I was also able to attend the last Yes concert of the millennium on December 13, 1999, at the Tower Theater in Philadelphia.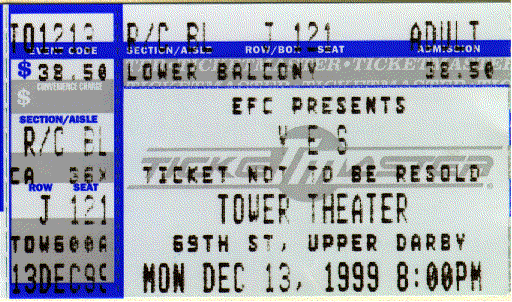 The band's most recent studio album is their 2001 release, Magification, which features an orchestra and back-up piano instead of the typical keyboard player. I was able to see a concert from this album tour at the Mann Theater in Philadelphia in August 2001, which my daughter also attended.
Prior to that concert, we visited a Roger Dean art display at a gallery, and met up with many people from the Yes club from Yahoo (now reformed as the SoundChaser discussion group). For several hours prior to the concert, we had a picnic outside the Mann Theater, and discussed many memories of past concerts. One couple (my friends) who had met as a result of chats on the club were getting married later that week. You can guess what kind of music was played at their reception. Photos from the picnic and wedding are posted at SoundChaser.org. The couple is also featured in the "Dreamtime" documentary that was filmed at this concert that is on the Yes Symphonic Live dvd (but is not included on pressings from China that spell the title as "Sym Phonic")
One of my favorite stories from the 2001 picnic was that of Yes fan Cindy's husband (Cindy is the Yes fan), who, dispite buying a 100+ cd player, never gets to hear his music since the first block of cds contain all his wife's Yes cds.

Here is a legal item not posted anywhere else: The U.S. government's Patent and Trademark Office record for the trademark for the classic Yes logo, registration number 1199922. It states that it is owned by bandmembers Jon, Chris, and Alan.

Despite what my friends think, I may not be the most intense Yes fan in the world, that title may perhaps belong to ReLāCHE (Rachel Schwarz) and her 1997 Roger Dean style and Olias of Sunhillow album symbol tattoos. (Visit Yes album cover artist Roger Dean's website at www.rogerdean.com and see some of his other works.)

Other fans from the United States and from around the world can be reached at the Yes online discussion group SoundChaser. A very friendly group, all of whom are my friends.

If you happen to be in a Baltimore bar and Siberian Khatru is playing on the juke box, take a look around, I just might sitting right there.

I have been privileged to have been a fan of this band for over 30 years. Yes music, with its universal and cosmic themes, has been a major impact on my life.

Visit other fan and band information sites on the Yes web ring (and join up if you have a Yes fan page).

<! begin alt 4 yes webring code>

<! end alt 4 yes webring code>

---
This page of the Yes Webring is owned by Michael Dean
Return to Michael Dean's homepage