Work, School, and Life Experiences
Michael A. Dean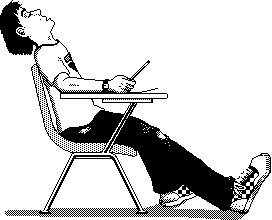 For three years, I worked as a depreciation engineer with the Maryland Public Service Commission. From September of 1997 to November 2001, I worked at the Baltimore, Maryland, law firm of Blum, Yumkas, Mailman, Gutman, & Denick, P.A., a law firm that ceased operations in 2001. Since December 2001, I have worked at my firm, Dean & Thomas, that I started with a law school friend, Gayton Thomas.
In 1998 I graduated from law school at the University of Baltimore (the UB student ID photo on this page dates from 1995), where I took evening classes while working.

See copies of my University of Baltimore School of Law diploma, and UB certification of concentrations in business and criminal law. After passing the bar exam on my first try, I was admitted to the Maryland Bar on December 15, 1998. On November 3, 1999, I took and passed the patent bar examination, and was admitted to the patent bar of the U.S. Patent and Trademark Office.
For UB students: In the spring of 1997 I conducted review sessions for a UB student Criminal Law section conducted by professor Byron Warnken (click here to link to the Maryland Criminal Law review material).
On Thursdays after work, you can find me relaxing with my friends at The Brewer's Art, a brew-pub on Charles Street in Baltimore's Mt. Vernon area. Ask for their Ressurection beer, a Belgian-style ale using a resipe dating from the 1600s.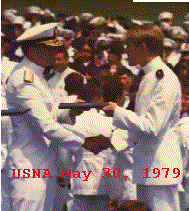 After graduating from the U.S. Naval Academy (here is a more detailed review of my life at USNA), where I majored in Operations Analysis, I visited the Indian Ocean, Kenya, and Australia on the nuclear powered cruiser USS California (CGN-36) and Italy, Spain, and France on the destroyer tender USS Puget Sound (AD-38). I received the navy sea service deployment ribbon and naval expeditionary medal. For eight years, I lived in the wonderful town of Auburn, Nebraska, and worked at the Cooper Nuclear Station, a GE BWR/4 boiling water reactor operated by Nebraska Public Power District (best electric company web site I have seen). Fun fact: The water around spent nuclear fuel glows the same color blue as phaser beams on Star Trek. After work, I drove 76 miles to the University of Nebraska at Omaha for some classes (the UNO student ID on this page

dates from around 1987 when I was taking an engineering statics class - caught wearing my grungy t-shirt that summer day because I did not know that this was photo id -taking day when I went to pay my tuition).
I also hold professional engineering licenses from the States of Nebraska and Maryland. I encourage all engineers to get a professional engineer license. If a guy that majored in operations research like me can get one, so can a real engineering grad. I think that the things you learn when just the studying for the exam is worth it! Main thing I learned - consider what could go wrong at all times when planning any engineering design, and then consider "what things you are concerned about." This is very important at nuclear power plants.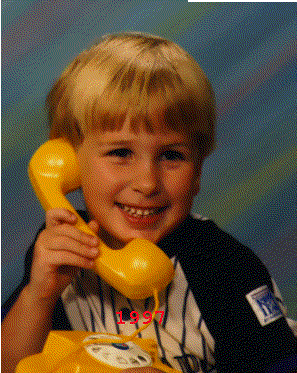 A former Rockefeller Republican, I have been proud since 1986 to have been a registered Yellow Dog Democrat. Among my other interests are Norse mythology, art by van Gogh and Gustav Klimt (I used to have a print of this Klimt painting), cats, good engineering design, science fiction by author Edmond Hamilton and David Gerrold, physicist Richard Feynman, strange movies, calculus and math, boolean algebra, women, and coffee (or maybe it's women with coffee). I enjoy the law and being an attorney in Maryland (see my congratulatory notes on my law school graduation from James Carvell and Gerry Spense).
Interesting things that I have done (besides having great kids like Anthony (left) and Ingrid (right)) include:
shooting a hand-held LAW rocket and hitting an old target tank on the first try (I had to hit it since I knew that this would be the only chance I would ever get, so I added 30 yards to my initial guess and bull's eye!)
landing on the aircraft carrier USS America (CV-66) on a US-3A mail plane (S-3A Viking variant) in the Indian Ocean
writing TI calculator programs, including one classified (don't ask what the subject was!), and one using a math trick to calculate the determinate of a matrix which is actually sized larger than the calculator memory can hold (a truely useless trick now days given the low cost of memory)
moving spent nuclear fuel at a commercial power plant (the water around a spent fuel bundle glows a shade of blue just like the color of phaser beams on Star Trek)
crossing from one ship, the U.S.S. California (CGN-36), to another on a bosun's chair while underway in the Indian Ocean
finding the cause of a "silent" reactor scram (a reactor shutdown without an alarm listing the reason for the shutdown) at a boiling water reactor plant, which was caused by a valve-disc separation of a main steam isolation gate valve, by use of the scientific method (a method which some of the plant engineers did not understand)
getting an Admiral Rickover interview that seemed to last forever
getting a perfect pinpoint celestial navigation fix while crossing the Atlantic on the U.S.S. Puget Sound (AD-38)
doing research in an attempt to avoid the grant of certiori by the United States Supreme Court in a case involving a Fourth Amendment issue, whether a police man may order a passenger to exit a car during a routine traffic stop, Maryland v. Wilson, 519 U.S. 408 (1997).
in general volunteering for anything that sounded interesting
Return to my homepage
This page was originally posted on May 19, 1997, and was last updated on December 31, 2001.
My thanks to the people at the Tripod Network of Lykos for providing this space.
© Copyright 1997-2001 M. A. Dean. Let me know at deanlaw@hotmail.com if any of the links have gone bad.